Roberto
Here are additional information about myself:


Who I am
What I did so far
What I like or I would like to do
Which are my interests
I graduated in Electronic Engineering in 1991 at Politecnico of Milan
I served in the Army in the Italian Alpine Corp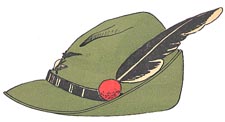 in Schlanders (Bozen)
I like very much TRAVELLING to visit new places and to know different people and cultures.
Even if I like the sea, I love especially the MOUNTAINS in all the seasons (in fact you find a lot of sections dedicated to them and to all the activities you can do there) ... I also like to read BOOKS about the mountains.
I've never attended a training (sooner or later I would like to), but I have an interest for PHOTOGRAPHY and when I go around rarely I don't seize my photo-camera.
I like to listen to good MUSIC especially when I'm sitting in front of my pc or in my car.
Recently I also love to go to the OPERA and in less than three years I already attended several performances.
I'm neither an expert nor a frequent visitor but I like to go to the CINEMA.
I always loved to watch and to practise SPORTS.
Unfortunately I have no time now but for many years I loved to play CHESS.
... and last but not least I started to like COOKING.